Central Indiana
Hallmark Portable Buildings
FREE DELIVERY within 150 miles of our Builders
We have builders in Richmond, IN New Lisbon, IN, Winchester, IN, and West Union, OH.
The area within the red lines is part of our free delivery zone. The map is a close estimate but may not reflect complete accuracy.  Delivery locations are subject to change at any time and this map may not reflect current changes.  Please ask us to be certain we can offer you free delivery.   We can still offer delivery to some areas outside of range for a delivery fee.
Call us at (765) 620-8018 to determine your delivery area.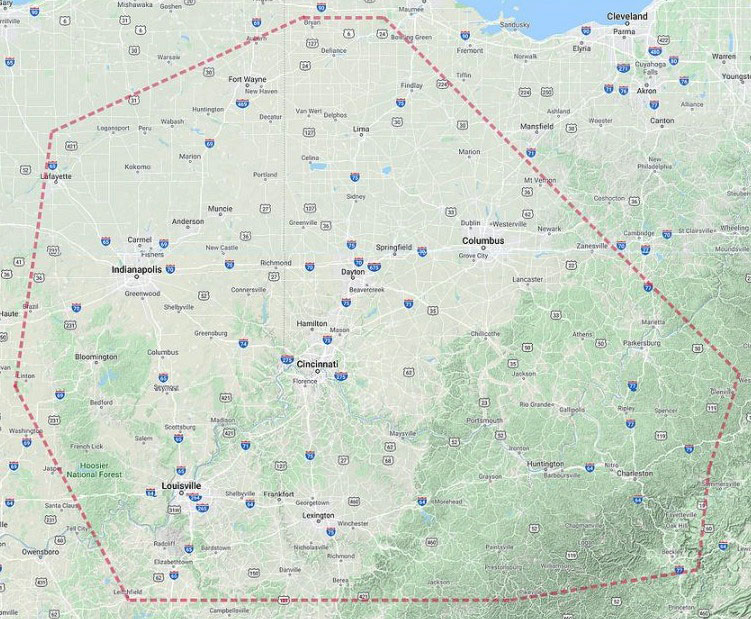 We gladly serve parts of Indiana, Ohio, Kentucky, Illinois, and Michigan.
Here's a sample of some Cities in Indiana:
Indianapolis, Anderson, Fort Wayne, Terre Haute, Bloomington, Columbus, Shelbyville, New Castle, Muncie, Marion, Kokomo, Lafayette, Crawfordsville, Noblesville, Zionsville, Brownsburg, Plainfield, Mooresville, Greenwood, Greenfield, Pendleton, Huntington, Lebanon, Martinsville